Tawas
united

methodist

Church
"Connecting people to God through Jesus Christ"
Missed a service? Want to see the service again? You can now watch all our services on YouTube. Just click on the YouTube logo. Have a blessed day!
Mid-Week Update for May 11, 2022
Welcome to the Mid-Week Update. This week we begin our Wednesday evening study on Heaven. Could it be God's timing that we're also preparing to celebrate the lives of Marion King and Margaret Lixey. These memorial services will provide an opportunity for us to think more about the afterlife than usual. Everyone has some idea about heaven. I've heard people talk about heaven, even those who have no belief in anything beyond the present human experience. For them, heaven is a comfort word that satisfies a need to explain the unexplainable. Most people in our society think of heaven as the next chapter in their eternal existence, and a glorious one at that. They think everyone goes there. On occasion someone will comment about a departed person whom they deeply admired saying, "if anyone deserves heaven that person does." All of these responses give credibility to the biblical teaching that everyone has a sense of eternity. Solomon wrote about this in the following bible verse:
Install the "TuneIn Radio" app on your iOS or Android phones and tablets. Come back to website and click the link below.
Then click "LISTEN LIVE", you will then see a play symbol on the lower right corner of your screen. Click that an your all set.
​
Listen to the radio broadcast at
WIOS AM 1480
through WKJC.
Welcome to Tawas United Methodist Church! We are a spirit filled church dedicated to connecting people to God through Jesus Christ. We offer worship on Saturday's at 4 PM and Sunday's at 10 AM. It has been temporarily suspended because of the COVID pandemic. We are conveniently located on the corner of M-55 and N. 5th Ave. in Tawas City just 1/2 mile west of U.S. 23. To find out what else is happening at our church see our
CALENDAR , visit our FACEBOOK page, subscribe to our BEACON NEWSLETTER or see our ANNOUNCEMENTS page. Our church offers two different worship services every Saturday evening and Sunday morning. If you enjoy a casual worship experience with Christian pop music please join us Saturday evening from 4-5 p.m. (Praise Music Song List). If you prefer a more traditional worship experience with lots of hymns then come to our Sunday morning service from 10-11 a.m. For those who cannot attend a worship service in person, feel free to join us during our YouTube Live broadcasts (Sat & Sun) or during our radio live broadcast on WIOS AM 1480 via the TuneIn app on your mobile device.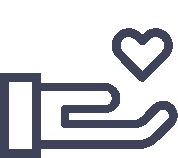 "Whoever is generous to the poor lends to the lord, and he will repay him for his deed." CLICK PDF TO DOWNLOAD
MAY 2022 BEACON