Tawas
united

methodist

Church
"Connecting people to God through Jesus Christ"
Install the "TuneIn Radio" app on your iOS or Android phones and tablets. Come back to website and click the link below.
Then click "LISTEN LIVE", you will then see a play symbol on the lower right corner of your screen. Click that an your all set.
​
Listen to the radio broadcast at
WIOS AM 1480
through WKJC.
Welcome to Tawas United Methodist Church! We are a spirit filled church dedicated to connecting people to God through Jesus Christ. We offer worship on Sunday at 10 AM. We hope to resume our Saturday evening service soon. It has been temporarily suspended because of the COVID pandemic. We are conveniently located on the corner of M-55 and N. 5th Ave. in Tawas City just 1/2 mile west of U.S. 23. To find out what else is happening at our church see our
CALENDAR , visit our FACEBOOK page, subscribe to our BEACON NEWSLETTER or see our ANNOUNCEMENTS page. Our church offers two different worship services every Saturday evening and Sunday morning. If you enjoy a casual worship experience with Christian pop music please join us Saturday evening from 6-7 p.m. (Praise Music Song List). If you prefer a more traditional worship experience with lots of hymns then come to our Sunday morning service from 10-11 a.m. For those who cannot attend a worship service in person, feel free to join us during our Facebook live broadcasts (Sat & Sun) or during our radio live broadcast on WIOS AM 1480 via the TuneIn app on your mobile device.
Mid-Week Update for July 21, 2021
Welcome to the Mid-Week Update. Thanks for hanging in there on the current sermon series. I hope you're getting something out of the messages from Revelation. In this apocalyptic book trouble is presented as a sure expectation of the Christian life. How do you handle trouble when it comes knocking on your door? I've been praying for a friend lately. His wife was feeling bad and it concerned them very much. She just felt tired all the time and all they could do was pray. They pretty much ruled out pregnancy because they had already raised three children and divested themselves of, kids stuff. Finally they made an appointment and went to see a doctor. Well, surprise, she is pregnant! Of course that was a joyful surprise.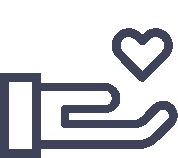 "Whoever is generous to the poor lends to the lord, and he will repay him for his deed." CLICK PDF TO DOWNLOAD
JULY 2021 BEACON